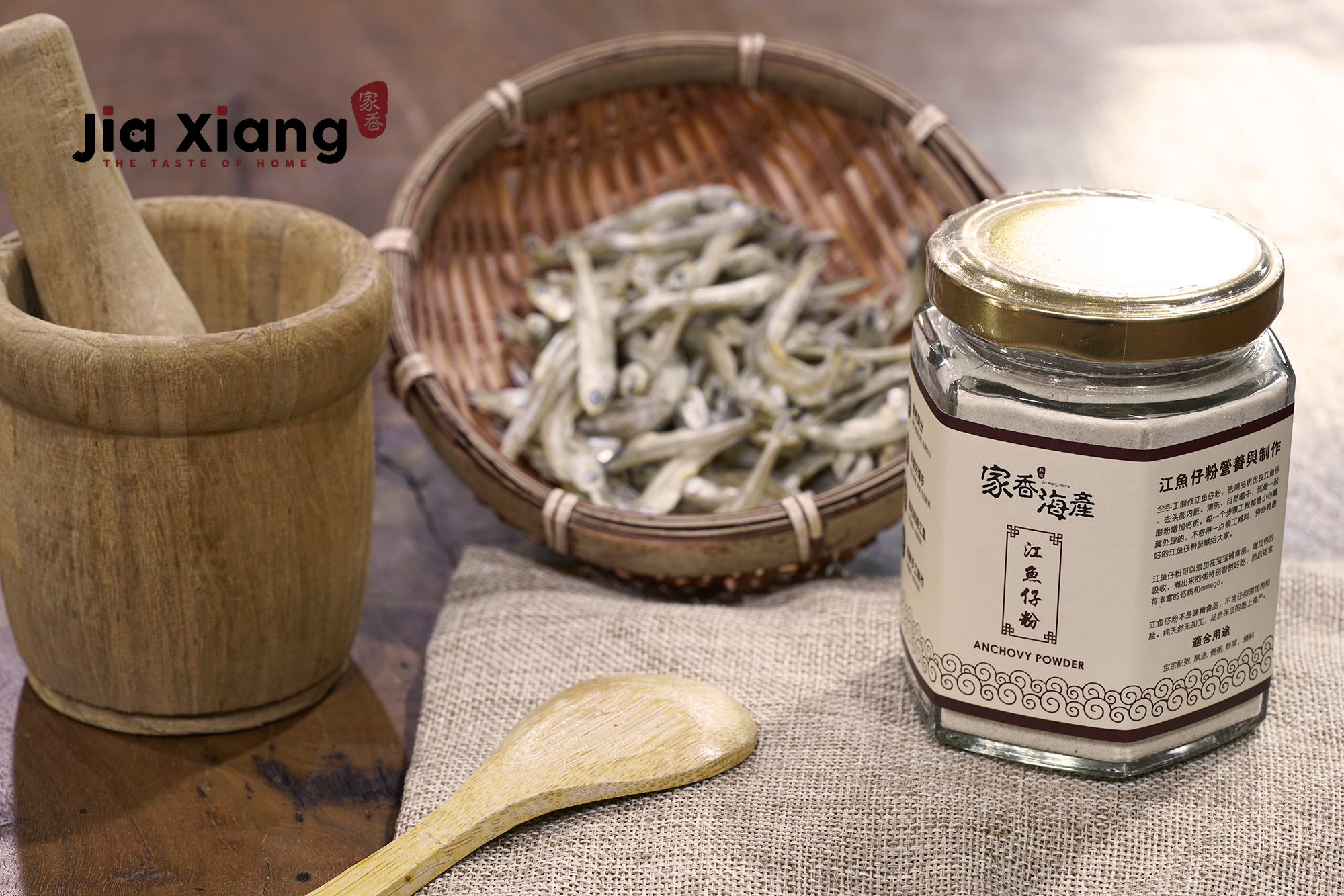 Anchovy Powder (net weight:100g)
• Fresh and high quality anchovy from the island.
• 100% natural and non-processed
• Nutritional ingredients have been tested in the laboratory
• Can be added to your baby's complementary food to increase nutrient absorption.

Uses: Baby food (stir with porridge / boil with porridge), steamed dish, soup, fried rice, cooking, stewing, meat seasoning, noodle making, all kinds of cooking.
Preservation method : Do not expose to high temperature and humidity, use a clean spoon, seal and refrigerate to ensure the freshness of the food. Frozen storage for 1 year.

The pure food powder may precipitate after soups are cooled, which is normal. Because it's made from 100% raw materials and does not contain any instant ingredients. Just like today you used the raw ingredients to cook the soup as an example, the ingredients cannot dissolve in the soup, it's the same. We recommends heating the soup before eating.

江鱼仔粉 (净100g)
• 100% 邦咯岛优质江鱼仔
• 无味素、无添加剂、无防腐剂、无盐、不是味精调味料
• 100%纯优质原料研磨
• 用途:宝宝辅食品(熬粥/拌粥)、蒸式菜色、熬汤、炒饭炒菜、蒸煮、焖炖、肉馅调料、面条制作、各式烹调等。
• 它不是味精,它为您的菜肴增添营养,提味鲜香。
• 本产品已完成食品化验认证

保存方法:
勿置于高温潮湿处,请使用干净的匙提取、密封并冷藏保存才能确保食品鲜美度。冷冻保藏1年!

所有汤品冷却后粉末会有沉淀的可能,这是正常的现象。因为天然调味粉乃是100%原料研磨制成,不含任何速溶成分的,就像今天你用整只的江鱼仔煲汤来做例子,江鱼仔也不可能溶化在汤里,是一样的道理哦。小店建议汤品加热再食用,我们用心,您们放心,要吃就选最好的!
Product is proudly made in Malaysia. Pangkor island
Singapore Food Agency (SFA) licensed approved
Food Testing with certification completed