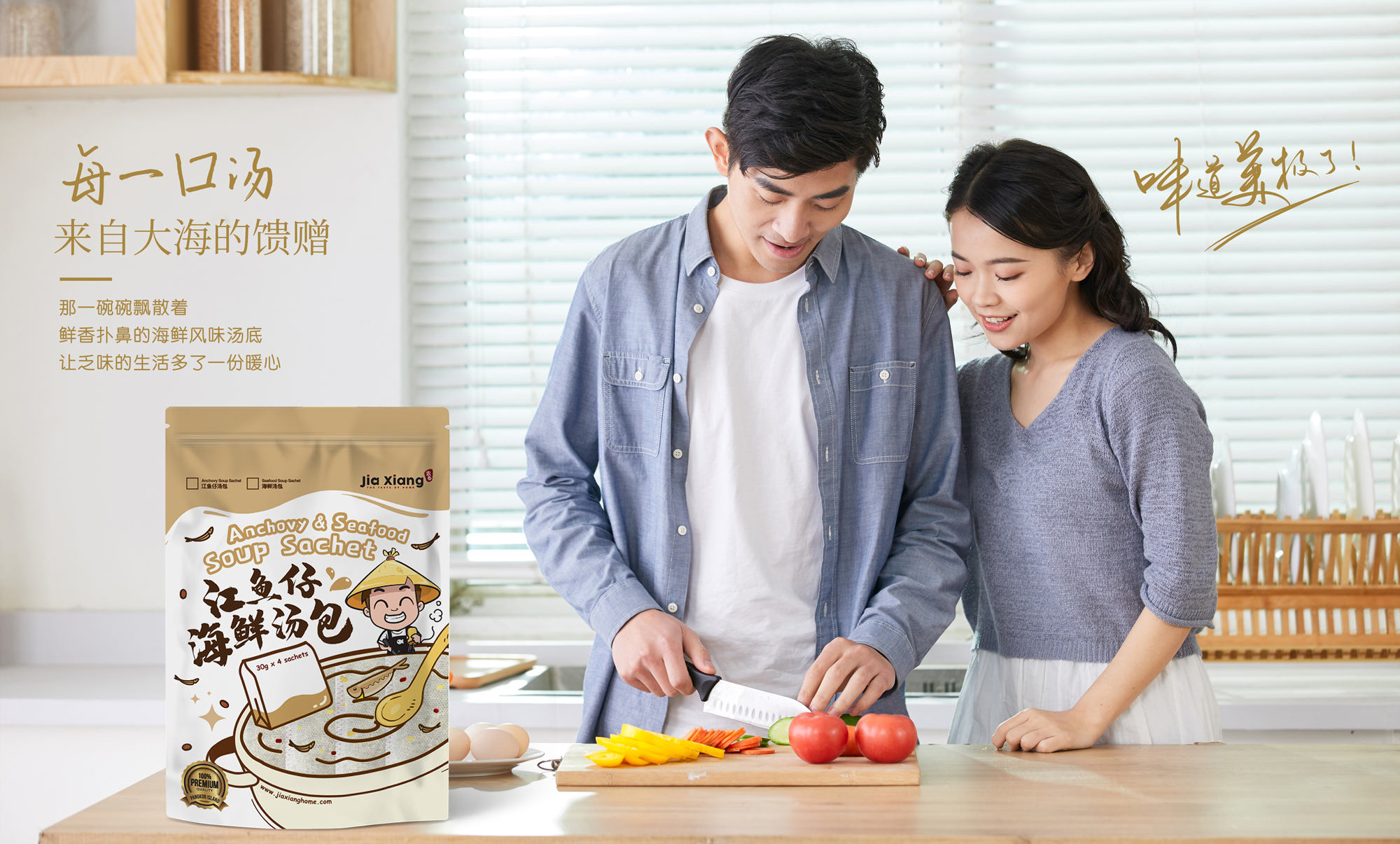 家香江鱼仔汤包120g(内有30g x 4小包)
省时必备、鲜香清甜、无腥味、是您的熬汤最佳选择!!
适用于各式汤底
成分:邦咯岛江鱼仔,胡椒,海盐
(无添加糖和其他食材,少许胡椒和海盐作为烹饪提鲜)

家香海鲜汤包120g(内有30g x 4小包)
省时必备、鲜香清甜、无腥味、是您的熬汤最佳选择!!
适用于各式汤底
成分:邦咯岛江鱼仔,左口鱼,金钱花鱼,干贝,鱿鱼,胡椒,海盐
(无添加糖和其他食材,少许胡椒和海盐作为烹饪提鲜)

如何使用:
- 每包煮大约1公升+-的水,搭配猪骨或香茅熬煮会更香。(汤包和水量可随个人口味调整)
- 水沸腾后放入汤包,转小火熬煮10-20分钟捞起,再放入食材。
保存方法:冷冻保藏一年。
Jia Xiang anchovy soup sachet (30g x 4sachet)
Convenient, time-saving, delicious, and fresh! It is the best choice for your soup!!
Suitable for all kind soup base
Ingredients: the finest Pangkor Island anchovies, pepper, sea salt
Jia Xiang Seafood Soup Sachet (30g x 4sachet)
Convenient, time-saving, delicious, and fresh! It is the best choice for your soup!!
Suitable for all kind soup base
Ingredients: Premium Anchovy, Flounder Fish, KetKet, Scallop, Squid, Pepper, Sea Salt

How to use:
- Each Sachet around 1L +- water, it will be more tasty boil with bone or citronella.
- Water boiled, put the soup sachet and turn to small heat, simmer for 10-20 minutes then picking up the soup sachet, only add your ingredients to cook.

Preservation method: One year frozen storage.